THE CUT
Cleaning Out My Underwear Drawer Threw Me Into the World of Sustainable Lingerie
In life, many of us experience a moment of undergarment clarity. It happened for me at the age of 24, when I opened my underwear drawer and realized that every pair I owned had been with me for 3 years or longer. Not a single one excited me or sparked joy when I got dressed for the day. With little to look forward to (this was during the pre-vaccine days of the pandemic), I decided to focus all my energy on overhauling my underwear collection. I spent days researching, carefully vetting brands that I would feel good investing in for aesthetic, ecological, and moral reasons.
My personal biggest priorities are fair pay and good working conditions for garment professionals followed by the lowest possible impact on the planet, and that generally translates to more dollar signs. It costs extra money to implement and continually ensure sustainable practices and to keep investing in sustainability improvements. Higher wages for workers in particular are nonnegotiable for me, and I don't mind paying more when I know that more of my money is going toward paying the professionals who make my clothes.
There are a lot of factors to consider when looking for sustainable clothing: longevity, fabric, production process, etc. I shop secondhand for a lot of my clothing, but for underwear, that's not really an option — which also means it's important to purchase underwear I know can biodegrade or be usefully recycled. My search was loosely separated into three categories: everyday basics, for which the priority was affordability since I would be buying a lot of them; house undies, which needed to be cute and offer good coverage for the days when I simply cannot wear pants; and the special occasion underwear, which is for the days when I want to feel very cute.
Considerations
A lot of what I look for when purchasing underwear can apply to all my clothing — but there are also some lingerie-specific things to think about.
Breathable, nontoxic fabric: For people with vulvas, the fabric you choose is extra important when buying underwear. Put simply, your underwear is in direct contact with your vagina, and for me, the possibility of absorbing any toxic compounds in the fabric directly into my body isn't worth risking. Synthetic fabrics made with polyester not only tend to contain toxins from the production process, but they also trap heat and moisture, which can, at the bare minimum, cause irritation — and for those prone to yeast infections, it certainly doesn't help.
Laundry label: All lingerie should be washed on the cold cycle and air-dried, but some of the more expensive pairs I've bought are hand-wash only, which is something I didn't pay as much attention to at the time. Knowing the extra time and energy their laundering will require, I find myself thinking twice before putting on a hand-wash-only pair.
Life cycle: Since there's no way to completely sanitize a used pair of underwear, the life cycle of this particular garment is usually limited to one person's use — so it's especially important to ensure that it's well made enough to last at least a few years, and that, once it does wear out, you can donate it to a textile recycling facility or allow it to biodegrade.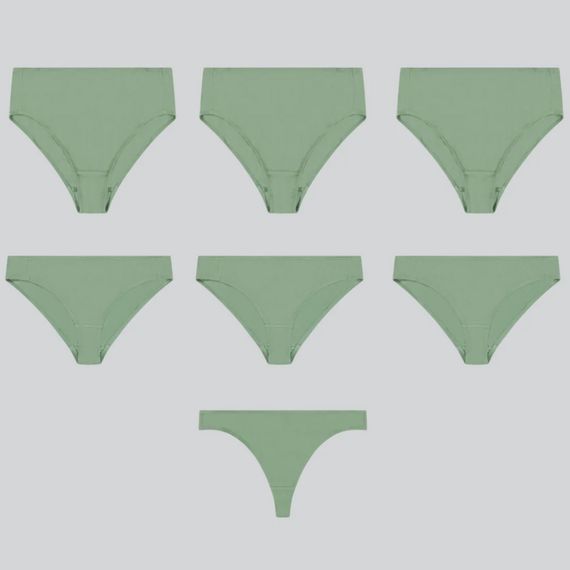 I've saved the best for last. Kent embodies everything I look for when I'm shopping for underwear: cute, versatile styles and colorways; an impressively short and well-vetted supply chain; a regularly visited and local factory that ensures fair pay; carbon neutrality; and best of all, every pair of Kent underwear is fully compostable, made with organic pima cotton and plant-based elastics. The brand, based in Los Angeles, partnered with L.A. Compost to test its briefs and found that, in a composting facility, they decomposed within 90 days (don't worry — with proper care, they will last much longer in your underwear drawer). The underwear is extremely well made and has an impressive amount of stretch when you consider the total lack of synthetics. The brand also makes very cute crop tops that match all the underwear, and it offers a three-pack for $68, a workweek bundle of five pairs for $108, and a full-week bundle of seven pairs for $144.